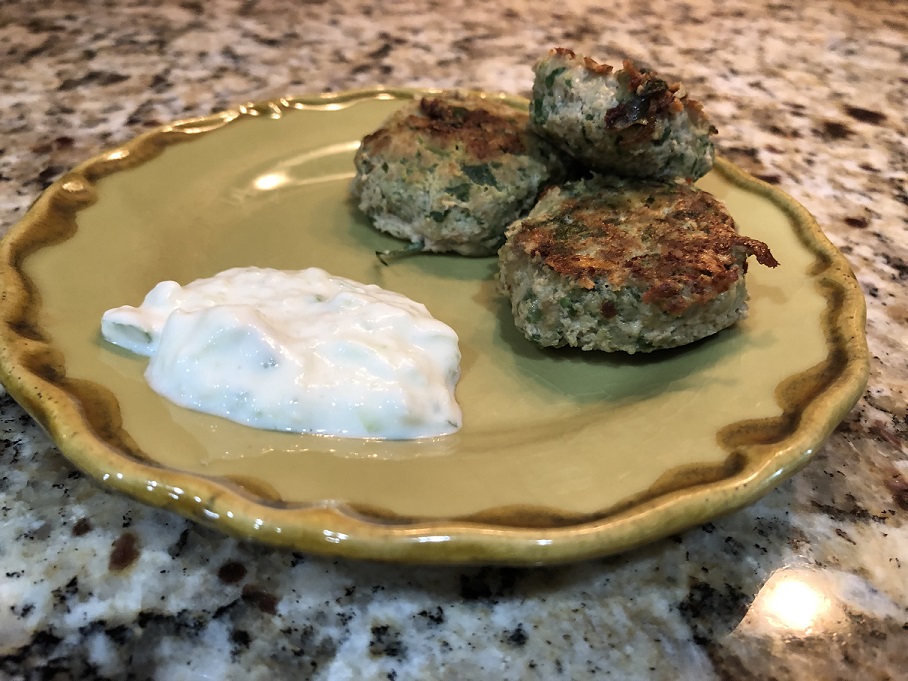 Serve as a main entrée or an appetizer – they're a crowd-pleaser!
Ingredients
2 lbs ground turkey or ground turkey sausage
2 eggs
2 cloves garlic, minced
10 oz package of fresh baby spinach, chopped
4 oz feta cheese
Salt & pepper to taste
Tzatziki sauce
6 oz plain Greek yogurt
½ c cucumber, grated
1 tsp olive oil
2 tsp white wine or rice vinegar
1 clove garlic, minced
1 tso dill
Salt to taste
Directions
Mix all ingredients for sliders together in a large bowl.
Form 24 small patties on parchment paper or foil.
Fry patties over medium to medium-high heat in non-stick skillet that has been sprayed with cooking spray. (These take a little heat to brown)
Transfer to cooling rack.
Serve with Tzatziki sauce.
Makes 8 servings (3 sliders)
Nutrition Facts (plain & with sauce):       Tzatziki sauce
Calories              230                                      20
Total Fat               13g                                    2.5g
Total Carbohydrates          2.5g                         1g
Dietary Fiber                     1g                             0g
Protein                               27g                         2.2g
Print Recipe: Turkey Sliders with Spinach and Feta
The post Turkey Sliders with Spinach and Feta appeared first on Center for Weight Loss Success (CFWLS).